O calatorie romantica in timp cu "Splash Splash Love"
Zilele acestea mi-a atras atentia "Splash Splash Love" – 퐁당퐁당, un serial sud-coreean de doar doua episoade ce a fost difuzat de canalul MBC in perioada 13-20 decembrie (https://www.youtube.com/watch?v=tzO46bKw174). Serialul va propune o calatorie romantica in timp, lucru absolut normal daca ne gandim ca acesta se incadreaza, printre altele, in genul fantastic. In rolurile principale ii veti putea vedea pe Kim Seul Gi (Jang Dan Bi) si Yoon Doo Joon (liderul trupei Beast – n.r.), care ii da viata regelui Lee Do.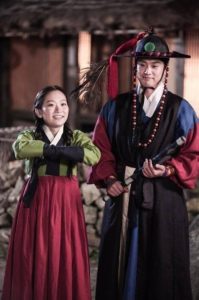 Dan Bi este o studenta din anii terminali si o aplicanta la Testul de Abilitate pentru Colegiu. Ea a renuntat sa mai invete la matematica si (ca sa vedeti ce noroc au unii!!!) chiar in ziua examenului face o calatorie in timp, ajungand in perioada Joseon. Unde mai pui ca acolo il cunoaste pe Lee Do – regele care manifesta un interes deosebit pentru matematica, de care evident ca se indragosteste. Serialul este regizat de Kim Ji Hyeon, dupa un scenariu de Kim Ji Hyeon.
In alte roluri:
• Jin Ki Joo – Regina So Heon
• Ahn Hyo Sup (안효섭) – Che Ah Jin
• Lee Dae Yun – Choi Man Ri
• Jung Kyu Soo – Shim On
• Kim Gab Soo – Hwang Hee
• Go Kyu Pil – professor de matematica
• Im Ye Jin
** Nascuta pe 10 octombrie 1991, in provincial Dongnae din Busan, Kim Seul Ki (김슬기) a mai jucat in "Oh My Ghost" (tvN, 2015), "Angry Mom" (MBC, 2015), "Kill Me, Heal Me" (MBC, 2015), "Discovery of Romance" (KBS2, 2014), "Surplus Princess" (tvN, 2014), "I'll Die Soon" (KBS2, 2014), "Answer Me 1994" (tvN, 2013), "Pretty Man" (KBS2, 2013), "Another Wedding" (KBS2, 2012), "Flower Boy Next Door" (tvN, 2013), "21st Century Family" (tvN, 2012) si "You've Fallen for Me" (MBC, 2011).
** Nascut pe 4 iulie 1989, chipesul Yoon Doo Joon (윤두준) are 1,79cm, 66 de kilograme si este in zodiac Rac. Cantaret si actor, pe Doo Joon l-ati mai vazut cu siguranta in "Let's Eat 2" (tvN, 2015), "Let's Eat" (tvN, 2013), "IRIS 2" (KBS2, 2013), "A Thousand Kisses" (MBC, 2011 – cameo), "All My Love" (MBC, 2010) si "More Charming by the Day" (MBC, 2010).
Sursa text si foto: www.koreandrama.org
Traducere: 한 사랑
---
---
---