"Train to Busan", pe locul 15 in istoria box office-ului coreean
Pe 13 august, Consiliul Coreean al Filmului a anuntat ca, in urma cu o zi, 81.419 de spectatori au urmarit 1.494 de ecranizari ale filmului "Train to Busan", in 521 de cinematografe, depasind "Avengers: Age of Ultron" si intrand, astfel, in topul 15 al hiturilor de box office din istoria nationala a Coreei, informeaza site-ul www.soompi.com.
Chiar si dupa ce a atins 10 milioane de vizualizari pe 19 iulie, filmul continua sa atraga audiente de 70.000-80.000 in timpul saptamanii si intre 15.000 si 20.000 in weekend-uri. Cum ca se apropie Ziua Nationala a Eliberarii in Coreea (15 august -n.r), numarul audientei totale este asteptat sa creasca foarte mult, pana la 11.000.000 de oameni.
Cu actori precum Gong Yoo, Ma Dong Seok, Jung Yoo Mi, Choi Woo Shik si Ahn So Hee, filmul spune povestea pasagerilor dintr-un KTX catre Busan, care incearca sa supravietuiasca unui virus epidemic de zombie.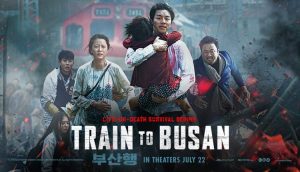 "Train to Busan" este primul film "live action" si al treilea film de lung-metraj al regizorului Yeon Sang Ho, care se afla in spatele unor filme de animatie precum "King of Pigs" (2011) si "The Fake" (2013).
Traducere: AleMiRa
---
---
---