BTS sarbatoresc 4 ani de la debut!
Bangtan Boys/Bulletproof Boy Scouts (cunoscuti si ca 방탄소년단) este un grup de 7 membrii, lansati de compania Big Hit Entertainment. Membrii acestui grup sunt Jin, Suga, J-Hope, Jungkook, Jimin, Rap Monster si V. Ei au varste cuprinse intre 19 si 24 de ani (vartsa internationala). Semnificatia numelui grupului, Bulletproof  Boy Scouts/Bangtan este de "a bloca gloantele lumii", iar denumirea oficiala a fanilor lor este "A.R.M.Y.", care vine de la "Adorable Representative M.C. For Youth". Liderul este Rap Monster, dansatorii principali sunt J-Hope, Jungkook si Jimin, vocalistii sunt Jungkook, Jimin, Jin, V, rapper-ii sunt J-Hope, Suga si Rap Monster, iar maknae-ul este Jungkook.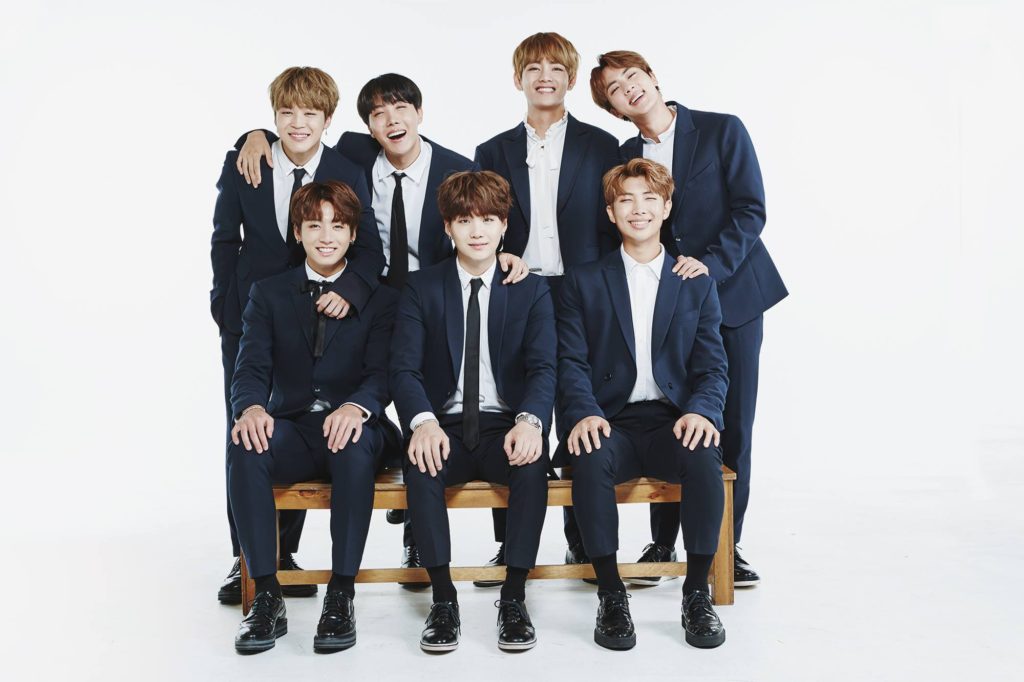 Pentru acest grup s-au cautat membri inca din 2010. Inainte de a debuta, Rap Montser presta deja ca rapper underground si a lansat cateva piese, inclusiv o colaborare cu Zico. De asemenea, Suga era si el un rapper underground din Daegu, iar J-Hope, care facea parte din trupa de dans denumita NEURON, era activ pe scena de dans underground, participand la diverse competitii si batalii de dans. Inainte de a se alatura Big Hit, Jimin a intrat la Busan High School of Arts, fiind primul elev la dans modern, dar mai tarziu s-a transferat la Korea Arts High School impreuna cu V, care a participat la o auditie in Daegu. Jungkook a fost cautat de mai multe agentii dupa ce a parasit auditile pentru SuperstarK, dar in final a ales Big Hit (se spune ca il aprecia foarte mult pe Rap Monster si de dragul lui a ramas la Big Hit). Jin era student la Universitatea Konkuk inaite de a fi rugat, pe strada, sa participe la o auditie.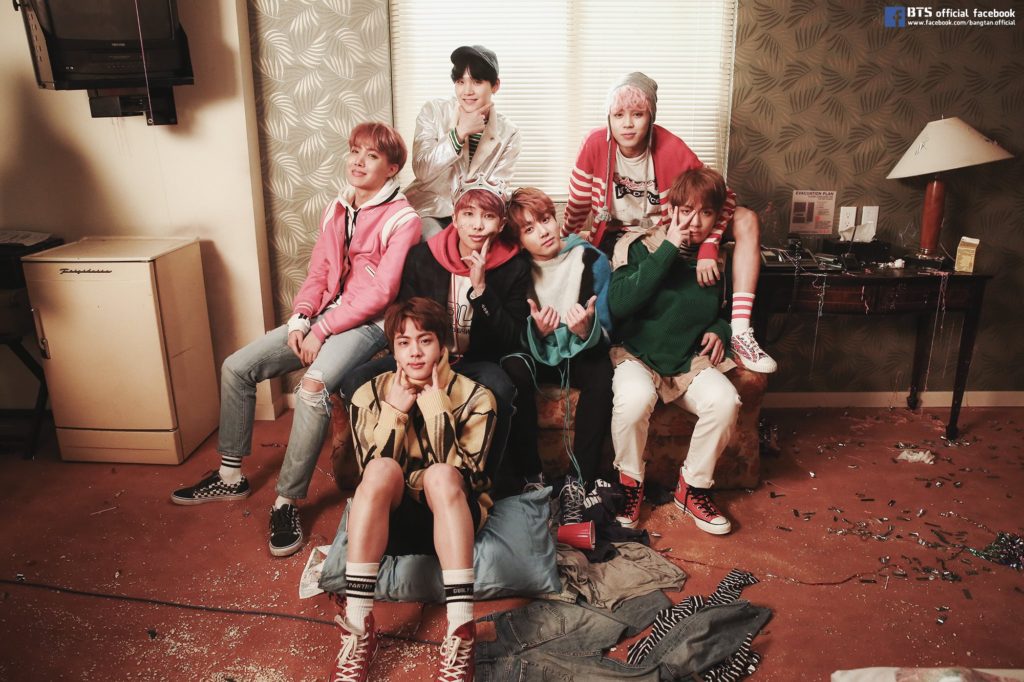 Cu jumatate de an inaintea debutului lor, baietii au inceput sa isi creasca reputatia si sa dezvolte o relatie cu fanii prin intermediul Twitter-ului, blog-urilor video (vlog), postari pe fan cafe si lansand diverse cover-uri pe YouTube si SoundCloud.
Bangtan a debutat in mod oficial printr-un showcase, pe 12 iunie 2013, cu single-ul "2COOL4SKOOL". Acestia au promovat "No More Dream" si "We Are Bulletproof Pt.2" la mai multe emisiuni muzicale. Pe 11 septembrie 2013, ei au avut parte de o revenire cu mini-albumul ce continea 10 melodii, "O! RUL82?", prin cantecul "N.O.", dar si putin, prin "Satoori Rap". Pe 6 noiembrie au urmat promovarile cu "The Rise Of Bangtan".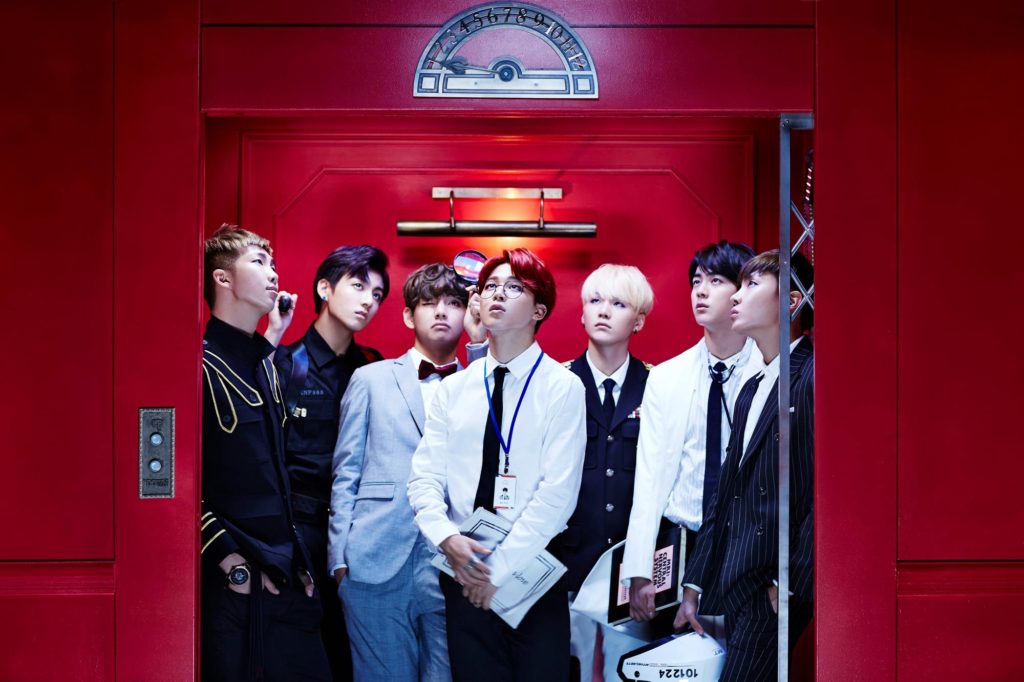 Faima celor din BTS a continuat sa creasca odata cu trilogia "The Most Beautiful Moment In Life", cu "The Most Beautiful Moment in Life, Part 2" si "The Most Beautiful Moment In Life: Young Forever", ajungand in topul Billboard 200. De asemenea,  "The Most Beautiful Moment In Life, Part 2" a ajuns pe primul loc in topul Billboard World Album Chart si a ramas acolo timp de mai multe saptamani. Astfel, BTS a devenit prima formatie de K-Pop care a reusit acest lucru.
Cunoscuti ca avand foarte multi fani internationali si ajungand sa cante in Asia, Europa, Australia, America de Nord si de Sud, performanta remarcabila a celor din BTS le-a adus premiul "Best World Performer" in 2015, la Premiile Mnet Asian Music Awards.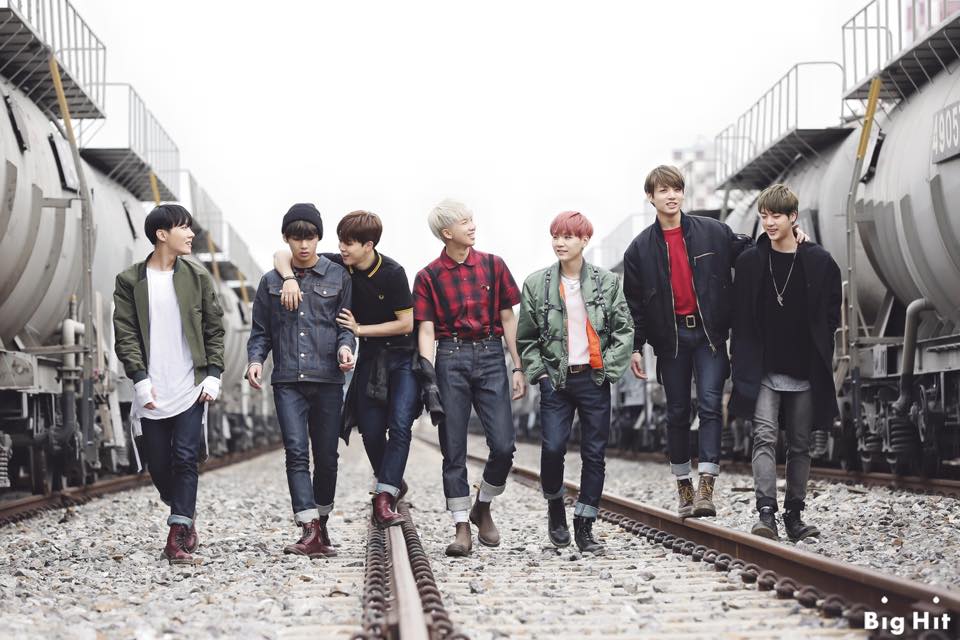 Baietii sunt cunoscuti pentru prezenta lor constanta pe retelele de socializare si au fost numiti de Forbes "artistul cu cele mai multe retweet-uri", intrecandu-l chiar si pe Kanye West, in martie 2016. Datorita acestui lucru, Twitter a lansat primul sau emoji K-Pop, cu logo-ul formatiei BTS.
BTS au fost denumiti "Constiinta Sociala a K-Pop-ului" de catre Jeff Benjamin, de la Fuse, care a scris ca grupul a gasit "un fel de a comunica onest despre subiecte pe care acestia le considera importante, chiar si intr-o societate conservatoare".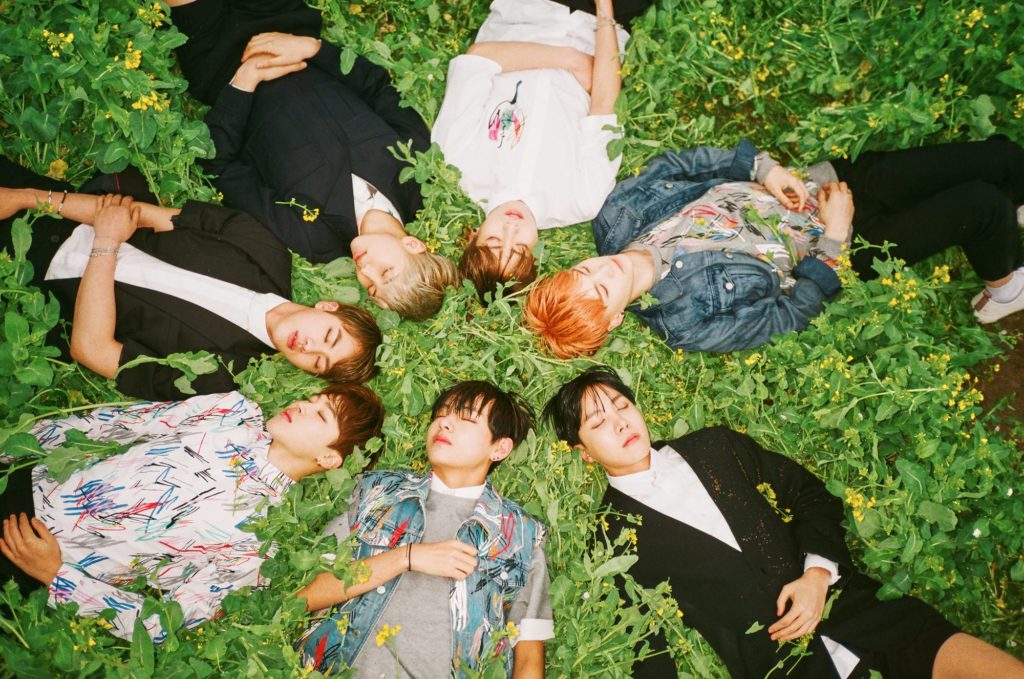 Prin lansarile lor multiple, BTS au atins, prin versurile lor, subiecte precum "bullying"-ul in scoli, drumul spre gasirea fericirii si respingerea idealurilor sociale. Acestia se imlpica activ in producerea muzicii lor si toti membrii participa la compunerea versurilor si muzicii pentru cantecele lor.
Discografie:
In limba coreeana:
Albume de studio:
"Dark & Wild" – 19.08.2014
"Wings" – 10.10.2016
Mini albume:
"O!RUL8,2?" – 11.09.2013
"Skool Luv Affair" – 12.02.2014
"Skool Luv Affair Special Addition" (re-editat) – 14.05.2014
"The Most Beautiful Moment In Life, Pt. 1" ("화양연화 pt.1") – 29.04.2015
"The Most Beautiful Moment In Life, Pt. 2" ("화양연화 pt.2") – 30.11.2015
Albume speciale:
"The Most Beautiful Moment In Life: Young Forever"  ("화양연화: Youg Forever")  – 2.05.2016
"Wings – You Never Walk Alone" – 13.02.2017
Albume single:
"2 Cool 4 Skool" – 12.06.2013
In limba japoneza:
Albume de studio:
"Wake Up" – 24.12.2014
"Youth" – 7.09.2016
Albume de compilatie:
2 Cool 4 Skool / O!RUL8,2? (2014)
Single-uri:
"No More Dream" (2014)
"Boy in LUV" (2014)
"Danger" (2014)
"For You" (2015)
"I Need U" (2015)
"Run" (2016)
"Fire" (2016)
PREMII
– Rookie of The Year 2013 la Melon Music Awards 2013
– So-Loved Awards 2013 – Best Debut Male & Best Single Album (2COOL4SKOOL)
– Rookie of the Year 2013 – 5th KPOP Convention (PHILIPPINE KPOP Awards)
– New Rising Star (Song) la 28th Golden Disk Awards
– New Comer Artist la 23rd Seoul Music Awards
– New Male Group Artist of the Year la 3rd Gaon Chart Kpop Awards
– Best Rookie of The Year la Soompi Awards 2013
– TOP NEW ARTIST 2014 in The 2nd V Chart Awards (YinYueTai) – Beijing (China)
– So-Loved Awards 2014 – Best Mini Album,Best Song,Best Choreography Male,Best Hip Hon RnB
– Rising Star 2014 – Arirang Pops In Seoul
– Album Bonsang Award la 29th Golden Disk Awards
– Album Bonsang Award la 24th Seoul Music Awards
– New Artist Of The Year (ASIA) la 29th Japan Golden Disk Music Awards
– Best 3 New Artist la 29th Japan Golden Disk Music Awards
– Best Korean Act la 2015 MTV EMA
– Best Dance Performance (Male Artist) la 2015 MELON MUSIC AWARDS
– World Performer Award la 2015 MAMA
– The 2015 SimplyKpop Best Performance Boy Group –  Arirang SimplyKpop
– 2015 Hello Asia K-Pop Awards : Best Music Video (DOPE),Best Dance Performance (DOPE),Group of the Year ,2015 Artist of the Year
– Album Bonsang Award la 25th Seoul Music Awards
– Album Bonsang Award la 30th Golden Disk Awards
– The World KPop Star Award la 5th Gaon Chart K-POP Awards
– Breakout Artist, Best Stage Outfit "BTS – DOPE" & Best Choreography "BTS -DOPE" @Soompi Awards 2015
Primul loc la emisiunile muzicale (Coreea)
I NEED U [al treilea mini album "화양연화 pt.1"] :
– 5.05.2015 – SBS MTV The Show
– 7.05.2015 – Mnet M!Countdown
– 8.05.2015 – KBS Music Bank
– 12.05.2015 – SBS MTV The Show
– 13.05.2015 – MBC Show Champion
RUN [al patrulea mini album "화양연화 pt.2"] :
– 8.12.2015 – SBS MTV The Show
– 9.12.2015 – MBC Show Champion
– 11.12.2015 –  KBS Music Bank
– 16.12.2015 – MBC Show Champion
– 8.01.2016 – KBS Music Bank
FIRE [albumul special "화양연화 : Young Forever"] :
– 12.05.2016 – MNET Mcountdown
– 13.05.2016 – KBS Music Bank
–  15.05.2016 – Inkigayo
Turnee si concerte:
Turnee in Coreea/Asia
2014 BTS Live Trilogy-Episode II: The Red Bullet (2014)
BTS Live Trilogy Episode I: BTS Begins (2015)
The Most Beautiful Moment in Life On Stage (2015)
The Most Beautiful Moment in Life On Stage: Epilogue (2016)
Turnee in Japonia
BTS's First Japan Tour-Wake Up: Open Your Eyes (2015)
Turnee Mondiale
2015 BTS Live Trilogy Episode II: The Red Bullet (2015)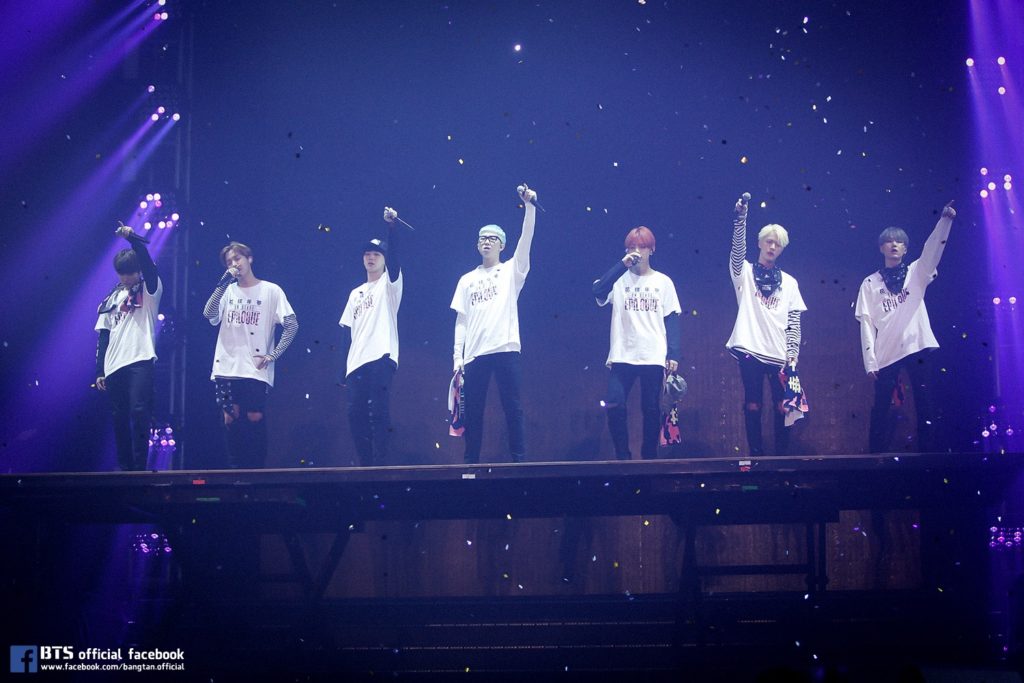 Autor: AleMiRa
Surse: www.bangtan.tumblr.com
Fotografii: https://www.facebook.com/bangtan.official/
---
---
---