Noua productie marca OCN "Black" – un thriller de exceptie
Iata ca a venit timpul  sa ne trecem pe lista  cu seriale coreene de vazut un nou serial. Acesta se numeste "Black"(블랙) si reprezinta un mix de genuri diferite de la thriller si crima  pana la romantic si fantezie. Va avea 16 episoade care vor putea fi vizionate incepand de astazi, 14 octombrie in weekend de la ora 22:20 (ora coreeana)  pe postul OCN ( postul coreean care obisnuieste sa  difuzeze acest gen de seriale). Productia "Black" este realizata de regizorul Kim Hong Sun dupa un scenariu semnat de Choi Ran.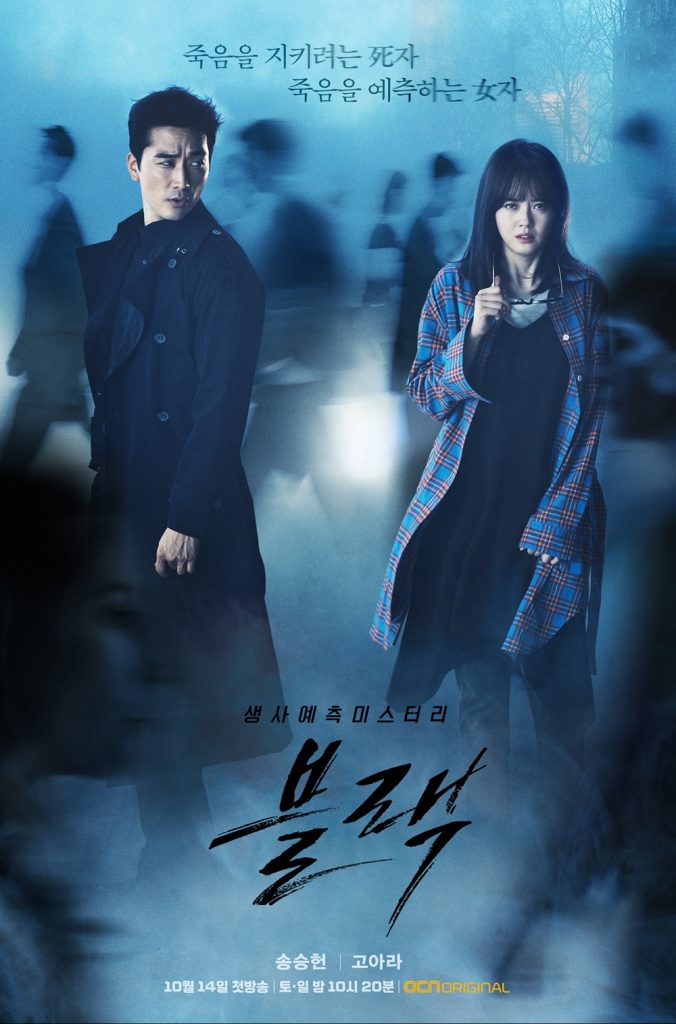 Poveste:
Aceasta drama va scoate in evidenta povestea unui "inger" al mortii, numit Black, rol interpretat de Song Seung Hun. El ajunge sa fie sters din memoria colectiva pentru ca a incalcat  regulile stricte ale cerului. Mai exac, s-a indragostit de o femeie muritoare numita Kang Ha Ram, rolul lui Go Ah Ra, dupa ce s-a folosit de un corp omenesc.  Insa si Ha Ran nu este chiar ceea ce pare si nici macar  obisnuita cum am fi crezut, ea putand sa  vada "umbrele" mortii. Cei doi incep o "lupta" pentru a salva vietile oamenilor incalcand  inca o data regulile cerului.
Distributie :
Actori principali:
Song Seung Hun – Black
Go Ah Ra – Kang Ha Ram
Kim Dong Joon – Oh Man Soo
Lee El – Yoon Soo Wan
"Ingerii" mortii:
Jo Jae Yoon – Grim Reaper No.007
Lee Kyu Bok – Grim Reaper No.416
Alti actori:
Kim Won Hae – Na Kwang Kyun / crazy dog
Jung Suk Yong – Bong Man Sik
Lee Chul Min – Oh So Tae
Heo Jae Ho – Park Kwi Nam
Kim Jae Young – Leo
Park Doo Shik – Je Soo Dong
Lee Kwang Hoon – Chen
Kim Jung Young
Oh Cho Hee – Tiffany
Song Seung Hun  este un  actor foarte cunoscut. Sigur l-ati remarcat pana acum datorita aspectului sau fizic placut si a zambetului inconfundabil. A jucat in multiple filme si seriale precum: "Saimdang, Light's Diary"(SBS /2017) ,"When a Man Loves" (MBC/2013), "Dr. Jin"(MBC/2012), "My Princess" (MBC/2011),"East of Eden"(MBC/2008)," Scent of Summer" (KBS2/2003).
Go Ah Ra este o tanara actrita pe care ati remarcat-o  dupa rolurile sale  din seriale ca: "Hwarang" (KBS2/ 2016-2017), "You're All Surrounded" (SBS/2014), "Reply 1994"(tvN/2013), "No Limit"(MBC/2009),"Who Are You?" (2008).
Kim Dong Joon este un tip foarte dragut care initial a fost cantaret in trupa kpop ZE:A dar in prezent este un actor in devenire. L-am mai putut vedea in cateva roluri in drame ca: "The Shining Eun-Soo"(KBS1/2016-2017),"My Lawyer, Mr. Jo" (KBS2 / 2016), "The Fugitive of Joseon" (KBS2/2013).
Lee El  este o actrita foarte frumoasa si talentata, pe care am putut sa o remarcam in diverse ipostaze in rolurile sale din: "Goblin" (tvN/2016-2017), "Entourage" (tvN/2016), "Monster" (MBC/2016), "Imaginary Cat" (MBC every1/ 2015-2016), "My Beautiful Bride" (OCN/2015), "Divorce Lawyer in Love"(SBS/2015), "Maids (JTBC / 2014-2015), "Liar Game" (tvN / 2014),"It's Ok, This is Love (SBS / 2014).
Curiozitati:
"Black" va lua locul dramei difuzate anterior de OCN si anume "Save Me".
Prima citire a scenariului a avut loc pe 24 iulie 2017.
Drama "Black" va putea fi vazuta cu subtitrare in limba romana pe Blogul lui Atanase.
Pentru a va face o idee despre aceasta drama , va invit sa vedeti aici cateva filmulete:
Trailer 1: https://www.youtube.com/watch?v=WxcR-POjjAg
Trailer 2: https://www.youtube.com/watch?v=-7oKtGxE4cE
Trailer 3: https://www.youtube.com/watch?v=ucunIk5cZa0
Trailer 4: https://www.youtube.com/watch?v=G0-5IoRD5r4
Eu sunt hotarata sa ma apuc de acest serial pentru ca mi se pare tare interesant. Poate pare ca seama cu alte seriale deja celebre cu teme asemanatoare dar cred ca de fapt ideea acestui serial este alta si merita sa fie descoperita. Va invit si pe voi sa ii dati o sansa.
Vizionare placuta!
Surse: koreandrama.org, asianwiki.com
Autor: Daniela Coman
---
---
---