Sweet Stranger and Me
Astazi are premiera un nou serial coreean. Este vorba despre "Sweet Stranger and Me" (우리집에 사는 남자), cunoscut si sub numele de "Man Living at My House", o comedie romantica cu 16 episoade (ce urmeaza sa fie confirmate), difuzata de una dintre cele mai importante posturi coreene, KBS2. Veti putea urmari aceasta drama in fiecare luni si marti de la ora 22:00 (ora coreeana). "Sweet Stranger and Me" este productia regizorului  Kim Jung Min, dupa un scenariu semnat de  Kim Eun Jung.
Aceasta drama se bazeaza pe un webtoon din 2015  cu acelasi nume "우리집에 사는 남자 / The Man Living in Our House", scris de Yoo Hyun Sook si publicat in perioada 24 martie 2015-24 mai 2016 prin intermediul "Daum.com".
Poveste:
Aceasta drama romantica  prezinta felul in care convietuiesc doua persoane straine, total diferite. O insotitoare de zbor care decide sa se intoarca acasa si are parte de surprinza vietii ei cand descopera ca in propria casa intalneste un strain mult mai tanar care se prezinta ca fiind sotul mamei ei decedate.
Hong Na Ri,  personaj interpretat de actrita Soo Ae, lucreaza ca insotitoare de bord. Mama ei a murit in urma cu 3 ani si prin urmare ea ramane singura pentru ca nu mai are alte rude mai apropiate. Na Ri se hotaraste sa se intoarca in  locul natal pentru a vizita mormantul mamei ei cu ocazia comemorarii. Viata ei ia o intorsatura neasteptata cand,   la mormantul mamei ei,  intalneste un barbat tanar numit Go Nan Gil (rol interpretat de Kim Young Kwang). El se prezinta ca fiind tatal ei. Inainte ca mama lui Hong Na Ri sa moara, aceasta s-a casatorit cu  Go Nan Gil. Acum el locuieste in casa  mamei ei si este seful unui restaurant mai mic pe care sotia sa decedata il avea. Na Ri nu crede deloc ceea ce spune el asa ca  planuieste o misiune prin care sa demonstreze ca el minte.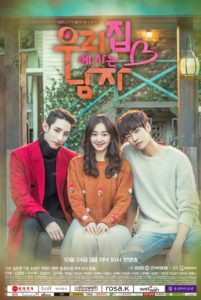 Distributie:
Distributie principala:
Soo Ae as Hong Na Ri
Kim Young Kwang as Go Nan Gil
Lee Soo Hyuk as Kwon Duk Bong
Jo Bo Ah as Do Yeo Joo
Altii:
Kim Ji Hoon – Jo Dong Jin ( prietenul lui Hong Na Ri)
Kim Mi Sook – Shin Jung Im (mama lui Na Ri)
Kim Ha Kyun – Shin Jung Nam (unchiul luiNa Ri)
Ji Yoon Ho – Lee Yong Gyoo
Lee Kang Min – Park Joon
Jung Ji Hwan – Kang Han Yi
Shin Se Hwi – Kwon Duk Shim (sora vitrega Duk Bong)
Jung Kyung Soon – Kwon Soon Rye
Park Sang Myun – Bae Byung Woo
Woo Do Hwan – Kim Wan Shik
Wang Bit Na – Yoo Shi Eun
Kim Jae In – Yun Mi
Yoo An Na (유안나) – Shin Kyung
Jun Se Hyun – Kim Ran Sook
Soo Ae este o actrita foarte cunoscuta publicului din serialele sale anterioare: "Mask"  (SBS / 2015), "Queen of Ambition"  (SBS / 2013), "A Thousand Days' Promise"  (SBS / 2011), "Athena: Goddess of War" (KBS2 / 2010-2011), "Two Outs in the Ninth Inning"(MBC / 2007) si "Emperor of the Sea" (KBS / 2004-2005).
Kim Young Kwang este un tanar actor foarte talentat care a avut  aparitii  in seriale precum: "D-Day" (JTBC / 2015), "Pinocchio" (SBS / 2014-2015), "Age Ending in Nine Boy"  (tvN / 2014) ,"Secret Love" (Dramacube / 2014),"Good Doctor "(KBS2 / 2013), "Secret of the Birth"(SBS / 2013) ,"Can We Get Married?"  (jTBC / 2012-2013)," Love Rain" (KBS2 / 2012) ,"Bachelor's Vegetable Store"  (Channel A / 2011-2012) ,"White Christmas"  (KBS2 / 2011).
Pe Lee Soo Hyuk sigur il veti recunoaste din seriale mai recente de anul acesta sau de anul trecut, precum: "Lucky Romance"(MBC / 2016), "Local Hero" (OCN / 2016) "Scholar Who Walks the Night" (MBC / 2015), "Valid Love" (tvN / 2014-2015), "King of High School Life Conduct " (tvN / 2014), "Don't Look Back: The Legend of Orpheus"  (KBS2 / 2013), "Vampire Idol" (MBN / 2011-2012), "What's Up?  (MBN / 2011-2012), "Tree With Deep Roots" (SBS / 2011)," White Christmas" (KBS2 / 2011). Pentru rolul  vampirului rau din drama "Scholar Who Walks the Night"  Lee Soo Hyuk a primit premiul pentru Cel Mai Bun Actor Nou in 2015.
Jo Bo Ah a jucat in cateva productii precum: "Monster" (MBC / 2016), "All About My Mom"  (KBS2 / 2015-2016), "Missing Noir M" (OCN / 2015) sau "Surplus Princess" (tvN / 2014).
Curiozitati:
Teoretic, la noi in tara acest serial ar trebui sa fie difuzat de cei de la Viki.com, insa inca nu a obtinut licenta si nu este disponibil in tara noastra. Cel mai probabil il veti putea viziona pe Blogul lui Atanase.
Sursa: http://www.koreandrama.org/
Traducerea: Daniela Coman
---
---
---