Ji Chang Wook si Nam Ji Hyun, impreuna in super-drama "Suspicious Partner"
Cei de la  postul coreean SBS ne-au pregatit o noua premiera in aceasta seara de 10 mai. Ei vor difuza drama "Suspicious Partner" ("수상한 파트너"). Se spune  ca aceasta drama va fi genul comedie romantica, dar si thriller, cu Ji Chang Wook si Nam Ji Hyun in rolurile protagonistilor. "Suspicious Partner" va avea 16 episoade si va putea fi urmarit in fiecare miercuri si joi de la ora 22:00 (ora coreeana). Insarcinati cu producerea acestei drame au fost cei de la The Story Works, respectiv  Park Young Soo – in postura de producator, Park Sun Ho (regizor) si scenariul este "opera" lui Kwon Ki Young.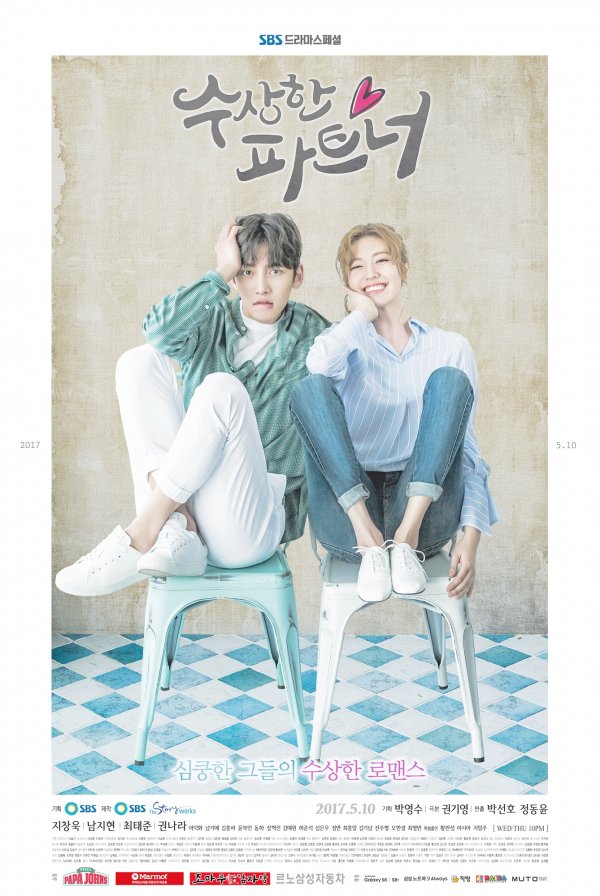 Poveste
Cand un ucigas  uita diverse lucruri poate fi foarte periculos!
Ji Chang Wook il va interpreta pe Noh Ji Wook, un procuror care isi schimba meseria si devine avocat privat la o fima de avocatura foarte puternica. In acelasi timp, Eun Bong Hee, rol pe care il va juca Nam Ji Hyun, este un procuror stagiar care lucreaza cu procurorul Cha Yoo Jung (personaj interpretat de Nara). Cha Yoo Jung este chiar fosta iubita a lui Ji Wook care isi doreste cu disperare o impacare cu acesta. Avocatul Ji Eun Hyuk (Choi Tae Joon) este un vechi prieten de familie cu Ji Wook, dar in ciuda relatiei stranse dintre ei, el ascunde niste resentimente in legatura cu imprejurarile diferite in care s-au aflat familiile lor.
In momentul in care un criminal "loveste", se intampla ca Bong Hee sa devina brusc suspecta in cazul crimei.  Dar se pare ca ucigasul real sufera de amnezie si continua sa ii urmareasca pe Bong Hee si Ji Wook. Vor reusi cei doi sa formeze o echipa si sa il prinda pe ucigas? Cum se vor descurca ei ramane doar sa descoperim in fiecare episod din "Suspicious Partner".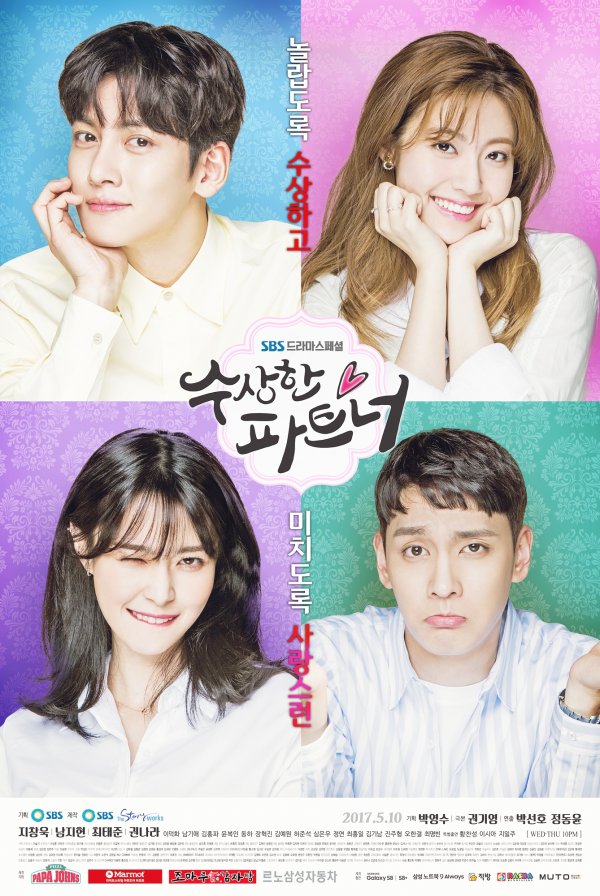 Distributie:
Distributie principala:
Ji Chang Wook – Noh Ji Wook
Nam Ji Hyun – Eun Bong Hee
Choi Tae Joon – Ji Eun Hyuk
Nara – Cha Yoo Jung
Alti actori:
Lee Duk Hwa – Byun Young Hee
Nam Gi Ae – Hong Bok Ja
Jo Seung Yun – Noh Young Suk
Jang Hyuk Jin – Section Chief Bang
Yoon Bok In – Park Young Soon
Hwang Chan Sung – Jang Hee Joon
Kim Ye Won – Na Ji Hae
Heo Joon Suk – Woo Hee Kyu
Shim Eun Woo – Hong Cha Eun
Dong Ha – Hyun Soo
Kim Hong Fa – Jang Moo Young
Park Sung Geun
Choi Hong Il
Ji Chang Wook este un actor foarte bun si apreciat de publicul de toate varstele. Sigur il veti recunoaste din seriale, precum: "Seven First Kisses" (Naver TV Cast, 2016), "The K2" (tvN, 2016), "Tornado Girl" (Hunan TV,2016), "Healer" (KBS2, 2014), "Secret Love" (DRAMAcube,2014), "Empress Ki" (MBC,2013), "Five Fingers" (SBS, 2012), "Bachelor's Vegetable Store" (Channel A,2011), "Warrior Baek Dong Soo" (SBS,2011), "Smile, Dong Hae" (KBS1,2010), "Hero" (MBC,2009), "The Sons of Sol Pharmacy House" (KBS2,2009) sau "You Are Very Good" (KBS2,2008).
Nam Ji Hyun este o tanara actrita foarte talentata. Sigur ati vazut-o in mai multe drame, precum: "Shopping King Louie" (MBC, 2016), "Mystery Freshman" (SBS, 2016), "What Happens to My Family?" (KBS2, 2014), "Angel Eyes" (SBS, 2014), "To the Beautiful You" (SBS, 2012, ep 5-8), "Can't Live Without You" (MBC, 2012), "Drama Special Series Little Girl Detective Park Hae Sol" (KBS2, 2012) sau "Warrior Baek Dong Soo" (SBS, 2011).
Choi Tae Joon este un actor promitator care incepe sa prinda curaj si sa incerce roluri noi. De curand eu l-am vazut in rolul unui criminal si as putea spune ca se descurca foarte bine. In rest, el a mai aparut in drame ca: "Missing 9" (MBC, 2017), "The Flower in Prison" (MBC, 2016), "I Ask of You, Mom" (KBS2, 2015), "Girl Who Sees Smells" (SBS, 2015), "Mother's Garden" (MBC, 2014), "Drama Special Series Adolescence Medley" (KBS2, 2013),"Ugly Alert" (SBS, 2013), "The Great Seer" (SBS, 2012) sau "Padam Padam… The Sound of His and Her Heartbeats" (JTBC, 2011)
Curiozitati:
Sper ca v-am facut curiosi, iar daca inca nu v-ati lamurit, va las aici cateva filmulete de prezentare:
Trailer 1: https://www.youtube.com/watch?v=xEczzMNpV1M
Trailer 2: https://www.youtube.com/watch?v=xjwGtWxxZX0
Trailer 3: https://www.youtube.com/watch?v=45zMFrIfCS0
Cam atat am avut eu de zis despre aceasta drama. Abia astept sa vad cum o sa fie, asa ca imi pregatesc floricele si  ma duc sa caut primul episod. Vizionare placuta va urez si voua!
Sursa: Koreandrama.org, asianwiki.com
Traducere: Daniela Coman
---
---
---