Coperta revistei GQ cu Jungkook domină 6 platforme majore de vânzări, obținând "All Kill" ca "Cea Mai Bine Vândută"
Jungkook, din BTS, își arată din nou popularitatea ca "Sold Out King". Coperta individuală a revistei GQ Korea Jungkook continuă să fie cea mai vândută coperta GQ pe toate platformele majore, la cinci zile de la lansare.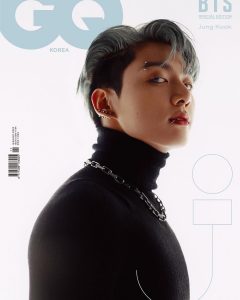 Coperta GQ Korea a lui Jungkook a devenit "All-Kill" ca cea mai vândută și cea mai bine vândută copertă pe toate cele 6 platforme majore: GMarket, Ktown4U, Yes24, Aladin, Kyobobook și Yahoo Japan, dovedind impactul său.
[Record] #Jungkook GQ Cover is the MOST Sold and Best Selling Cover in Major Platforms ALL-KILL

Day5 Update
#1 Yes24 (sales index 278,760)
#1 Gmarket (3,192 copies sold)
#1 Ktown4u (2,681 copies sold)
#1 Kyobobook
#1 Yahoo Japan
#1 Gmarket Global & Korea & USA & Russia & China pic.twitter.com/QgYbsTRYkg

— MagicStar_JK (@MagicStarJK) December 15, 2021
Sold Out King Jungkook continues his reign as his GQ Cover achieves All-K!ll as Most Sold on 6 Major Platforms. His cover is the #1 Overall individual best-seller on GMarket Global for 4 days in a row pic.twitter.com/HQuAAkMSvk

— Jungkook SNS✨ (@Jungkook_SNS) December 14, 2021
Coperta sa este, de asemenea, în topul celor mai bine vândute pe GMarket Global, împreună cu GMarket S.U.A., Coreea, China, Rusia și multe altele timp de cinci zile consecutive.
[Info] #Jungkook GQ Cover ranked No.1 Best Seller in Gmarket Global for 5 days in a row

Highest Ranked Individual Cover in all Region Chart

#1 Gmarket Global Overall
#1 Gmarket Korea
#1 Gmarket US
#1 Gmarket China
#1 Gmarket Russia#방탄소년단정국 #정국 #ジョングク pic.twitter.com/0fMoETKVsp

— MagicStar_JK (@MagicStarJK) December 15, 2021
Totul face parte dintr-o colaborare special între GQ Coreea și VOGUE Coreea. Cele două cunoscute reviste au lansat ediții speciale cu megagrupul BTS.
Revista GQ Coreea a lansat 8 coperte diferite ale revistei, 7 individuale, cu fiecare membru în parte și una cu întregul grup. Totodată, VOGUE Coreea a lansat 3 coperți diferite, cu întregul grup.
---
---
---