Platoul de filmari al productiei 'Descendants of the sun' s-a deschis ca atractie turistica
Platoul de filmari al seriei de televiziune sud coreene "Descendants of the sun" s-a deschis pentru public in Taebaek vineri, 12 august, atragand turisti atat locali cat si internationali, datorita popularitatii globale a serialului, informeaza agentia de presa Yonhap.
Potrivit sursei citate, platoul de filmare este o restaurare a partii militare din Taebaek din seria romantica de actiune. Primaria din Taebaek, provincia Gangwon, a investit aproximativ 270 milioane woni ($245,000) in acest proiect.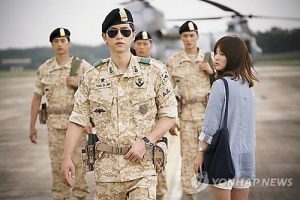 Scena din 'Descendants of the sun', lansata de KBS,
                                                                    cu Song Joong Ki si actrita Song Hye Kyo.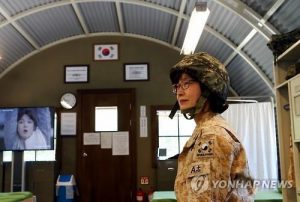 Un vizitator in uniforma militara exploreaza platoul
                                                                     de filmari din Taebaek, la est de Seul.
Lansat pe canalul local KBS pe 24 februarie, productia difuzata miercurea si joia spune povestea de dragoste dintre doctorita Kang Mo Yeon (Song Hye Kyo) si capitanul de armata Yoo Shi Jin (Song Joong Ki), in tara fictiva macinata de razboi, Uruk. Platoul de filmare din Taebaek este locatia unde, in serialul de 16 episoade, si-a desfasurat activitatea echipa medicala condusa de Kang si echipa militara condusa de Yoo.
Locatia turistica, situata la 271 km est de Seul, le ofera vizitatorilor posibilitatea sa exploreze tabara medicala si baza militara purtand costume cu acelasi design ca cele purtate de actori, tabara militara fiind echipata cu uniforme si cizme de lupta, casti antiglont, paturi militare si curele cu munitie. In afara taberei sunt stationate camioane militare si un elicopter. Orasul ia in considerare o replica a unui tanc, de asemenea.
Alaturi de baza militara din Taebaek, se afla centrala electrica din Uruk, distrusa de un cutremur. Mai mult, pana in 2018, orasul Taebaek planuieste sa investeasca 13,1 miliarde woni in contruirea de restaurante, depozite de mancare fermentata, replica unei mine si un parc.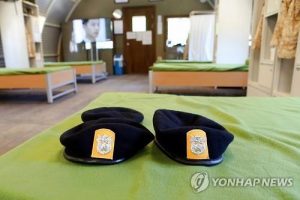 Berete purtate de catre soldati in 'Descendants of the sun'.
Sursa text & foto: http://english.yonhapnews.co.kr
Traducere: Iscu Claudia Mihaela
---
---
---