Drama "The Liar and His Lover" – despre adolescenta si prima dragoste
A venit primavara si iata ca un nou serial ne asteapta sa il vizionam incepand chiar de astazi. Se numeste  "그녀는 거짓말을 너무 사랑해"/"The Liar and His Lover" si este genul comedie romantica. Serialul va avea 20 de episoade (ce urmeaza sa fie confirmate) si va fi difuzat in fiecare zi de luni si marti de postul coreean tvN. In rolurile principale ii vorm regasi pe  tinerii Lee Hyun Woo si pe artista Joy din trupa kpop Red Velvet. Cei care s-au ocupat de productia acestrei drame sunt Bon Factory, regizor fiind Kim Jin Min, iar scenariul este semnat de Kim Kyung Min.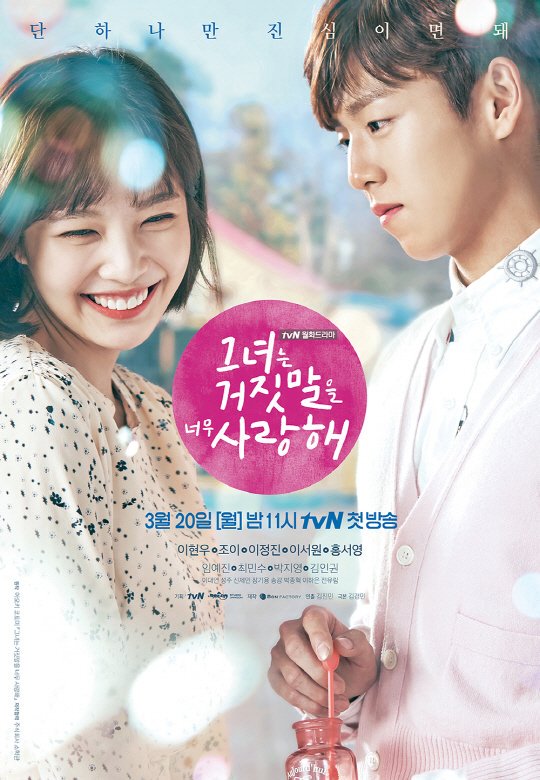 Poveste
Aceasta drama are la baza desenele japoneze "Kanojo wa Uso o Aishisugiteru"/ "カノジョはうそをあいしすぎてる", create de Aoki Kotomi, care au fost publicate pentru prima data in anul 2009 de revista "Cheese!".
"The Liar and His Lover" spune povestea lui Kang Han Kyul, rol interpretat de Lee Hyun Woo, un compozitor formidabil care se inspira din vocile celorlalti. El  are totusi o problema si isi ascunde identitatea adevarata. Se intampla sa o intalneasca pe Yoon So Rim, personaj interpreta det Joy, o eleva de liceu cu o voce minunata si destinul face ca ea sa se indragosteasca de Kang Han Kyul.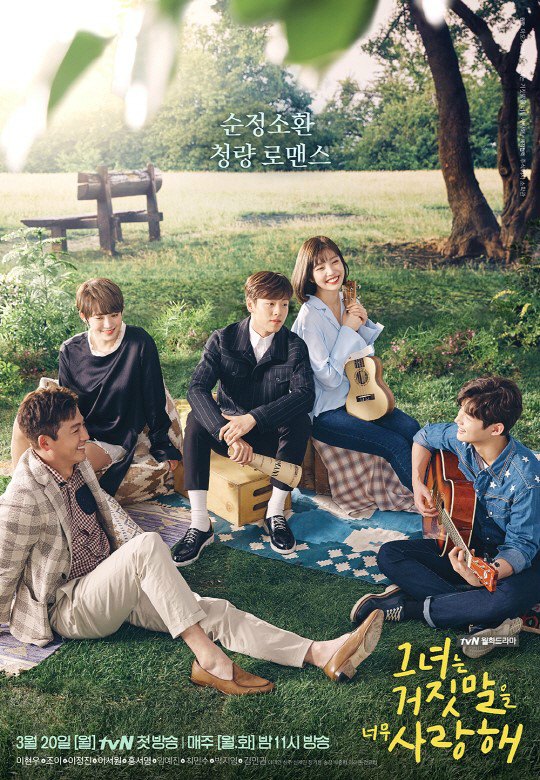 Distributie:
Distributie principala:
Lee Hyun Woo – Kang Han Kyul
Joy – Yoon So Rim
Alti actori:
Choi Min Soo – Kang In Woo (tatal lui Han Kyul)
Lee Jung Jin – Choi Jin Hyuk
Hong Seo Young – Chae Yoo Na
Song Kang – Baek Jin Woo
Park Jong Hyuk – Lee Kyoo Sun
Kim In Kwon – profesorul Bong
Im Ye Jin – Kim Soon Hee (bunica lui So Rim)
Lee Seo Won – Seo Chan Young (chitara bass)
Sung Joo – Yoo Shi Hyun (solist)
Shin Je Min – Lee Yoon (chitarist/clape)
Jang Ki Yong – Ji In Ho (tobosar/rapper)
Park Ji Young – CEO al companiei de management
 Lee Hyun Woo  este un tanar actor foarte talentat care face parte dintr-o generatie de actori-copii, prin urmare cariera lui  este una impresionanta desi are doar 24 de ani. Sigur va este cunoscut din mai multe seriale, printre care amintim si noi de: "Moorim School" (KBS2/2016), "Scholar Who Walks the Night" (MBC/2015), "To The Beautiful You" (SBS/2012), "Man From the Equator" (KBS2/2012), "Brain" (KBS2/ 2011-2012), "Gye-Baek" (MBC/2011), "Master of Study"(KBS2/2009), "The Great Queen Seondeok" (MBC/2009), "Moon River" (MBC/2009), "The Great King Sejong (KBS/2008), "Lobbyist"(SBS/2007), "The Story of the First King's Four Gods" (MBC/2007). Desigur el a jucat si in filme, cateva dintre aceste productii sunt: "The Beauty Inside"(2015), "Northern Limit Line" (2015), "The Con Artists|Gisooljadeul" (2014), "Secretly Greatly"(2013).
Joy este cantareata si membra a trupei kpop Red Velvet. Serialul marcheaza debutul acesteia in lumea K-dramelor.
Lee Jung Jin este un actor coreean pe care il veti recunoaste daca ati urmarit seriale ca: "The K2″ (tvN/2016), "Ms. Temper & Nam Jung-Gi" (JTBC/ 2016), "Temptation" (SBS/2014), "Hundred Year Inheritance" (MBC/2013), "The Fugitive: Plan B" (KBS2/2010).
Curiozitati:
"The Liar and His Lover" ia locul dramei difuzata anterior "Introverted Boss";
Din distributia acestei drame fac parte si alti artisti cunoscuti din lumea kpop-ului, precum: Shin Je Min, fost membru al trupei Lunafly, cunoscut sub numele de Teo, tobosar si vocalist. In 2014 am avut ocazia sa il vedem si la noi in tara intr-un concert live la Bucuresti alaturi de trupa sa.
Fiind vorba despre o trupa, in distributia dramei a mai fost inclus si un alt idol, pe numele lui Sung Joo, vocalist si membrul trupei UNIQ.
Pentru a va face o idee despre aceasta drama, va invit sa vedeti aici cateva filmulete:
Trailer 1 : https://www.youtube.com/watch?v=b1CLtR1RB-4
Trailer 2: https://www.youtube.com/watch?v=Qn3o3An9JUM
Trailer 3:  https://www.youtube.com/watch?v=_vsj_3D0Zyc
Cu speranta ca v-am facut curiosi, va urez vizionare placuta!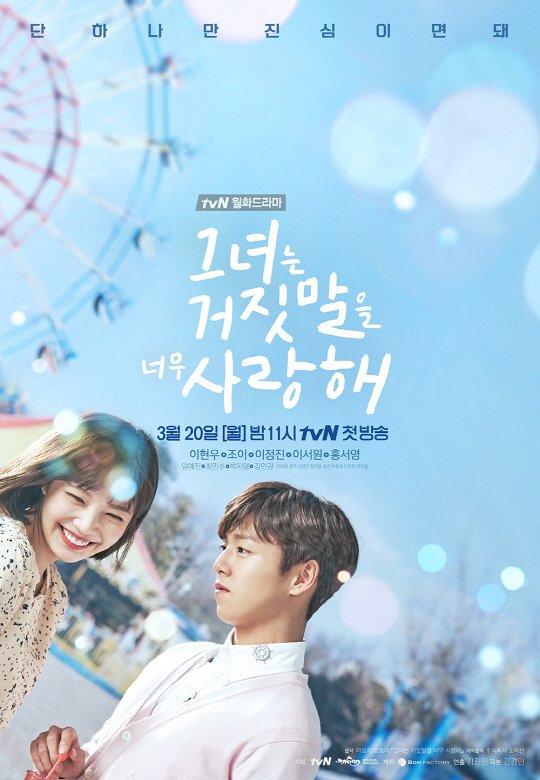 Autor: Daniela Coman
Sursa: koreandrama.org, asianwiki.com
---
---
---