Mini-seria "Queen of the ring" ii aduce impreuna pe Kim Seul Gi si Ahn Hyo Seop
Pe 9 martie a avut premiera mini-seria "Queen of the Ring/반지의 여왕", cunoscuta si ca "Three Color fantasy – Queen of the Ring (Gold)/세가지색 판타지 – 반지의 여왕". Este vorba despre o mini-serie de numai 6 episoane (2 episoade/zi), in cadrul careia romantismul se impleteste armonios cu fantezia. "Queen of the Ring" este difuzata de canalul NAVER joia, de la ora 23:10, ora locala, finalul sau urmand sa aiba loc chiar saptamana aceasta, pe 23 martie.
"Queen of the ring" este 100% o drama pre-produsa si, totodata, o coproductie intre NAVER tvcast and iMBC. Din distributie fac parte simpaticii actori Kim Seul Gi (Mo Nan Hee) si Ahn Hyo Seop (Park Se Gun). Drama este regizata de Kwon Sung Chang, dupa un scenariu de Kim Ah Jung.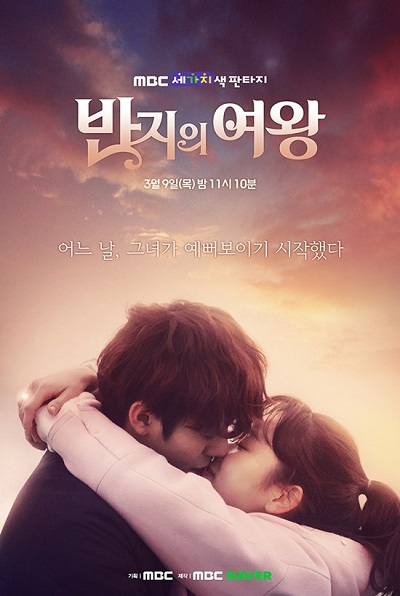 Povestea
Mo Nan Hee (Kim Seul Gi) nu este deloc o frumusete, iar aspectul exterior are un efect emotional puternic asupra sa. Intr-o zi, ea primeste un inel care detine un secret de familie. De cealalta parte, Park Se Gun (Ahn Hyo Seop) este frumos, fiind insa considerat un tip cu sange-rece. Datorita magiei inelului, el declara ca Nan Hee este idealul sau de femeie, cu un aspect frumos.
In alte roluri:
Yoon So Hee  – Kang Mi Joo
Hwang Jung Min – Moon Se Hwa
Jun Noh Min – Mo Joong Hun
Lee Tae Sun – Byun Tae Hyun
Choi Tae Hwan – Ma Deuk Chan
Kim Min Young – Pi On Hwa
Nota:
Aceasta drama face parte din trilogia "Three Color fantasy" a MBC. Din aceeasi serie mai fac parte "The Universe's Star (White)" si "Romance Full of Life (Green)".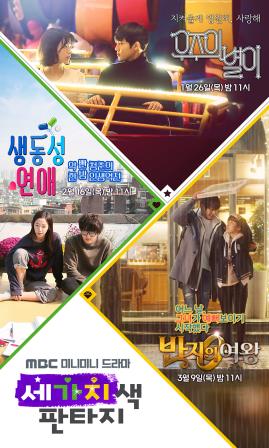 Cine sunt cei doi actori principali?
La cei 26 de ani ai sai, Kim Seul Ki (김슬기) a aparut in numeroase drame de success, dintre care amintim: "Legend of the Blue Sea" (SBS, 2017), "Weightlifting Fairy Kim Bok Joo" (MBC, 2016), "Moonlight Drawn by Clouds" (KBS2, 2016), "Second To Last Love" (SBS, 2016), "Splash Splash Love" (MBC, 2015), "Oh My Ghost" (tvN, 2015), "Angry Mom" (MBC, 2015), "Kill Me, Heal Me" (MBC, 2015), "Discovery of Romance"  (KBS2, 2014), "Pretty Man" (KBS2, 2013) si "Flower Boy Next Door" (tvN, 2013). Actrita s-a nascut in provincia Dongnae, Busan, si a studiat la Banyeo High School si Seoul Institute of the Arts. Agentia care o manageriaza este FilmItSuda.
Cu trei ani mai mic decat partenera sa din drama, Ahn Hyo Sup (안효섭) face parte din grupul Kpop One O One, aflandu-se sub egida agentiei Starhaus Entertainment. Tanarul actor este pasionat de limba engleza, dans, pian si vioara. Pe Ahn Hyo Sup l-ati putut vedea pana in prezent in: "Entertainer" (SBS, 2016), "Happy Home" (MBC, 2016), "One More Happy Ending" (MBC, 2016) si "Splash Splash Love" (MBC, 2015). Totodata, Hyo Sup detine un rol in drama "Father is Strange" (KBS2, 2017).
Sursa text: http://www.koreandrama.org
Traducere: 한사랑
---
---
---